Time flies, here comes to the end of my staying in Singapore. I have learned more than I can ever imagine. The experience is not only challenging but also fun and help me to grow tremendously. However, it would not be such meaningful memories without these people along the way. I would like to say 'Thank You' for their help and support throughout this year.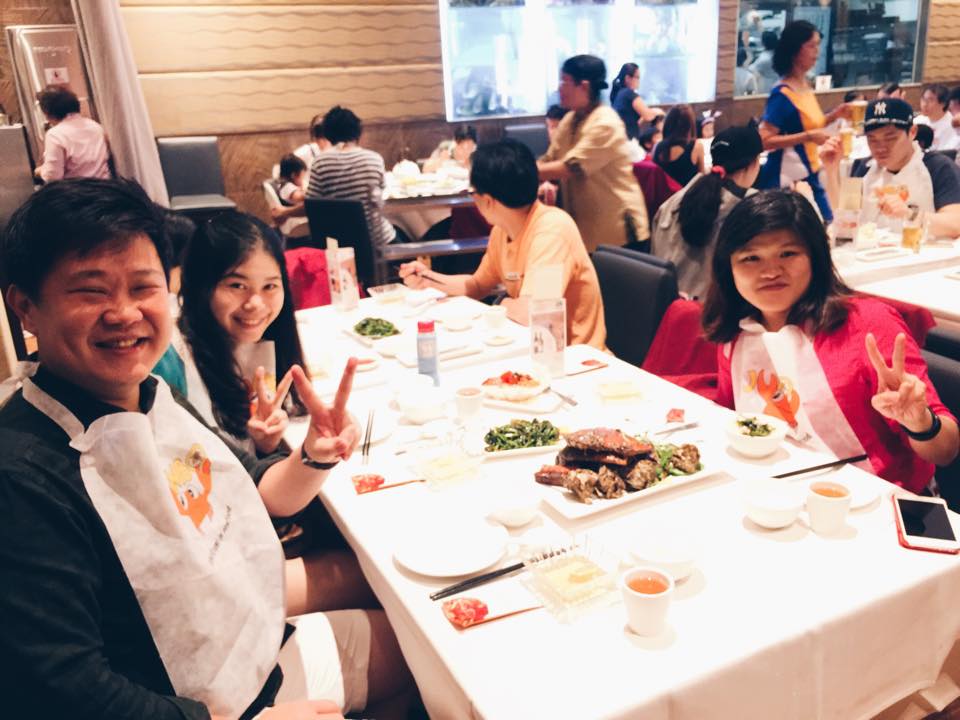 First and foremost, I would like to thank P'Fuu and Jimmy. Two PwC leaders who gave me this opportunity to grow.
P'Fuu – Thank you so much for everything. You not only gave me the opportunity but also supported me through the course of my staying here. Though you are super, super busy, you always found the time to listen to my problems and gave me practical advice both in personal and professional life. I don't know how many times I think I am the luckiest person to have you as my boss and mentor. I want to grow up and be a great leader like you. Let me know if you are thinking of adopting a child (I'm kidding ka).
Jimmy – Thank you for taking care of me as your employee for a year. I have learned a lot from you both as Technology consultant and CJB member. Even we didn't have a lot of coaching sessions together, but every session I did learn something that can be applied  to my career life. Also thanks for sharing tips and ways of thinking about my father's health condition. It's very helpful.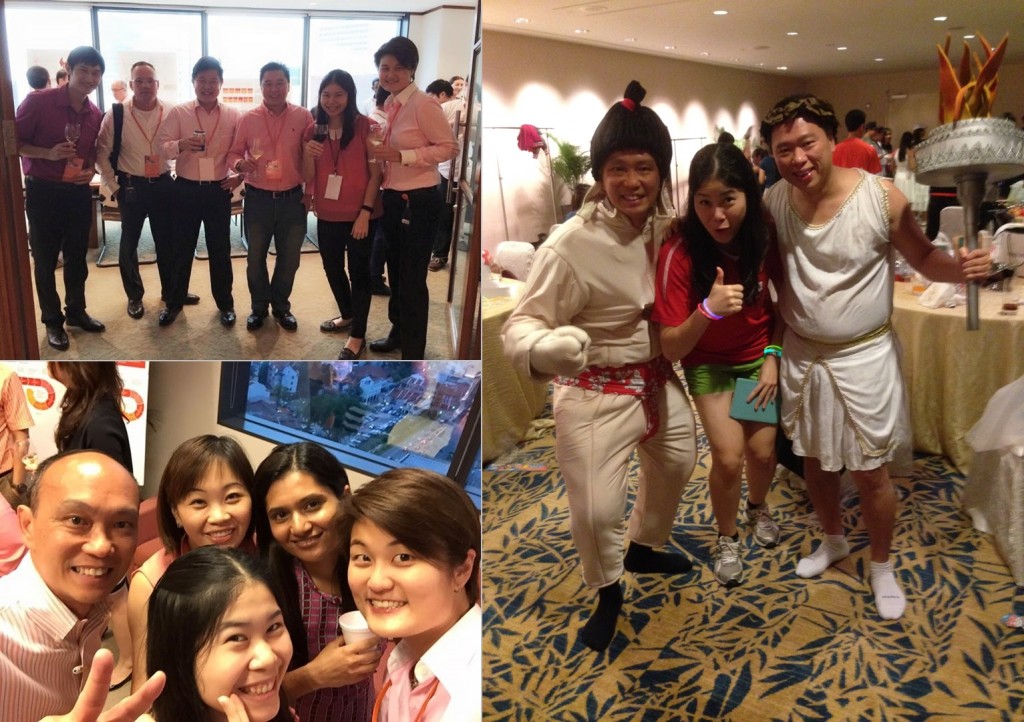 PwC Consulting Singapore leadership team 
Derek – Thank you for teasing me from day one to my last day. You are the liveliest CEO I have ever met, always in good mood almost all of the day I met you. You made my staying in PwC Singapore fun and challenging (To think about what I should do when you starting teasing me). Please miss me more than a hole in the head.
Alywin – Thank you for always welcoming me and be very kind with me. As CJB advisor, you taught me a lot about consulting practice management and how to be a good leader who pays attention to people on the ground. Thank you for making me feel like I'm home.
Whee Teck – Thank you for showing me an interesting leadership style which is approachable yet respectable. Thanks for a particular brown bag session that helped me rethink about my life and future, yet another Linkedin reviewing session that made my profile able to attract more head hunters. LOL. I'm going to miss your smile a lot.
Irene – The cutiest CFO ever! Thank you for offering good friendship to me. I was shock when I learned that you are our CFO. Thanks for always smiling in the office. It made my day.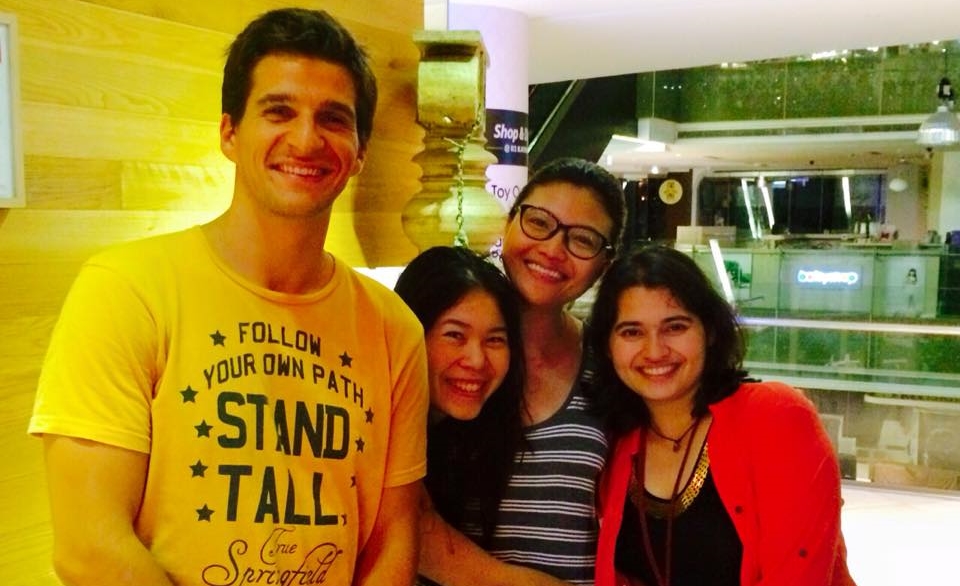 The A-team
Ili –  My beloved boss, I have to be honest that spending time with you for almost 6 months is not easy. I have love-hate relationship with you throughout the project. Though it is the toughest thing ever happened to me since I started working, but taught me priceless lessons and helped me grow a lot. You always gave honest feedback to me, sometimes it hurts but it is true. Thank you for everything. I can't thank you enough.
Lourenco – All the past 6 months of cleaning up your mess had taught me a lot, thanks for that. Though I pissed you off quite often but I have to admit that working with you is fun and exciting (because I would never know what is the next mess you will do). You were usually helpful when needed, always provide me a different perspective and style of thinking and living. Thank you for all the support at work and outside work bro!
Vrinda – My little sweet sis, special thanks to you for all the supports and friendship you gave to me. I always feel comfortable and relaxed when you are around. You always had time to listen to my stories and problems. Smartest yet sweetest girl I have ever met. (but please don't mistaken a slope as a hill and do exercise more.)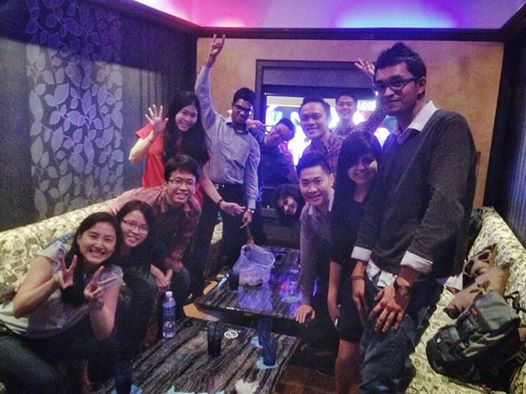 Data Folks
Rishiraj – Thank you for coaching and understanding me. I'm really impressed with your daughter's birthday.
Alvin – Thanks for showing up at my farewell even it's karaoke. I saw you sang along quite a number of songs. And your daughter is super CUTE.
Medy – Thanks for being so kind and providing advice to me when I have problems. Your support helped me go through my secondment smoothly. It calmed me down when I felt troubled.
Bellina – Congrats on your engagement and thanks for one-year guitar rental for free. You made my life outside PwC lively (with music).
Bernard – Thanks  for showing me church activities, introducing me to your kind friends and running with me quite a number of times even you secretly competed with me without telling me!
Rishi – Thank you for making my work life interesting. You are interesting person with a lot of interesting hobbies. I like your raps, keep rapping (but in moderation :P)
Sherlynn – Special thanks to you my lovely buddy. I know that you were incidentally assigned to be my buddy, but you are the greatest one ever. You helped me go through my first few months in PwC and in Singapore when I barely knew anyone and was new to everything. Thank you.
Mr.Kho – Why are you categorized in Data Folks?, anyway do take care of Sherlynn! Oh sorry, I'm suppose to thank you LOL. Thank you for friendship and being my English reviewer from time to time. You are a funny guy indeed. Please send me free air ticket when you get married.
Shreya – Thanks for saving my life from SQL mission. One regret I have is I should have talked to you earlier. You are cute at heart, very smart and very good at singing, My Shreya Nicki Minaj!
Jamin – Thanks for running with me and coming to my farewell even you work far away. You face is suitable to be Thai than Singaporean.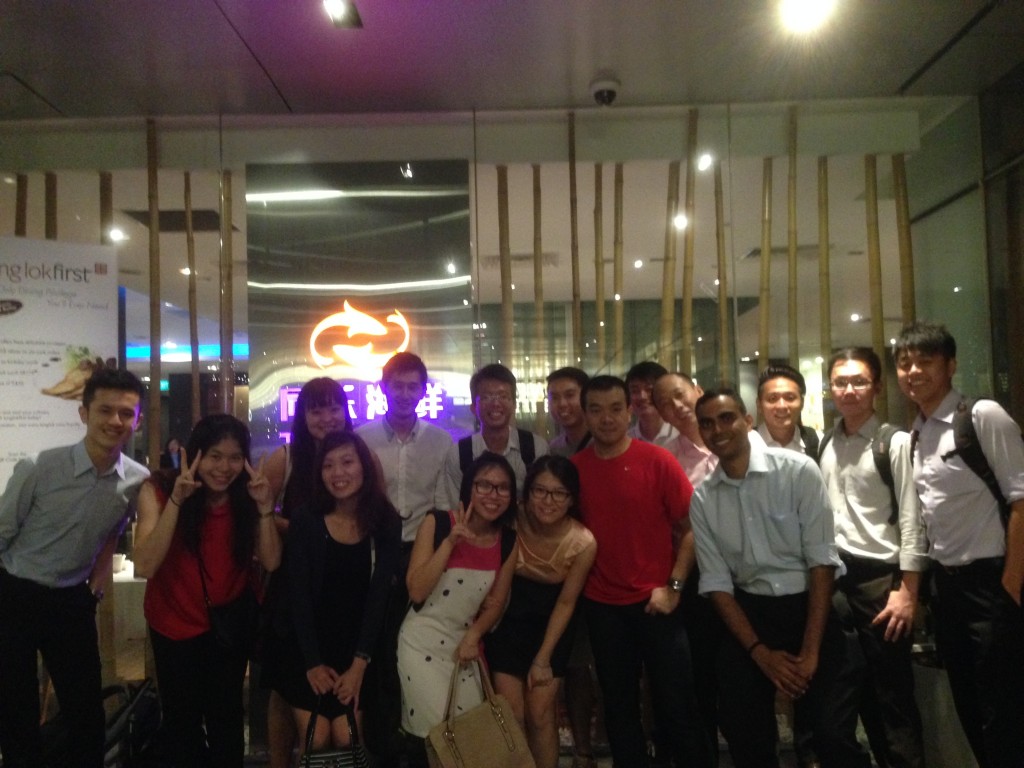 Security Folks
Bhagya – Thank you for giving me an opportunity to work on your security project. It was interesting and taught me a lot about world of security that I had every knew before. Also thanks for being patient with me. It was nice to work with you.
Mr.Pua – Thanks for always checking up on me even only because of curiosity. Though I'm not working with you but I always had fun spending time talking with you at Toastbox
Xiang Zheng – Thanks for giving me very detailed information about Singapore Art Festival. You are a very funny gentle man, it is very nice knowing you.
Christine – Thanks sis for all the supports and introducing me through a lot of fun in Singapore and Indonesia (Batam). I respect you a lot that you work hard to help your family and are still energetic and very positive. I will miss you a lot!
Jason – OMG. Thank you so much bro for the support for both the project we worked together and CJB thingy. I can't remember how many times I survive with your help and your advice. You are very generous and always think about other more than yourself. Thanks! Thanks!
Junhong – Thanks for running with me even it was only 5 second at the beginning before you run pass me and gone. You are always be my very good friend who offers help and support to me. Thank you so much
Chew Peng – Thank you for your friendship. You are very calm and mature but yet kind and cute.
Aincaran – Thanks for selling me your kindle in a very good price (would be better if I got more discount). You always remind me of my boyfriend both appearance and personality, so I feel comfortable when you are around. Sorry for always teasing you about you skin color, I just can't stop myself. LOL
Po Wei – Thanks for your humor that makes me feel fresh and relieve every time I talk to you. When I become a Partner, I will promote you to SA for sure!!!
Hin HO HO HO – You are my Santa because you are Hin HO HO HO. Thank you for the friendship, I have fun talking with you.
Wei Min – Actually I think you are handsome and very kind, look like a prince with a white horse. Your knowledge about Thailand is impressive and I enjoyed talking with you very much. Thank you for the friendship you have given to me.
Ray – Daddy! I will miss you and you MUSCLE a lotttttttttttttttttttt. Thanks for accepting my as your child and please don't forget to transfer money to me every month to my Thai account :P.
Wei Da – Son of datuk, never heard from you again since you left us. Thank you so much for being a great help with my CJB work. I would not survive without your support for the first few CJB work. Always miss you dude!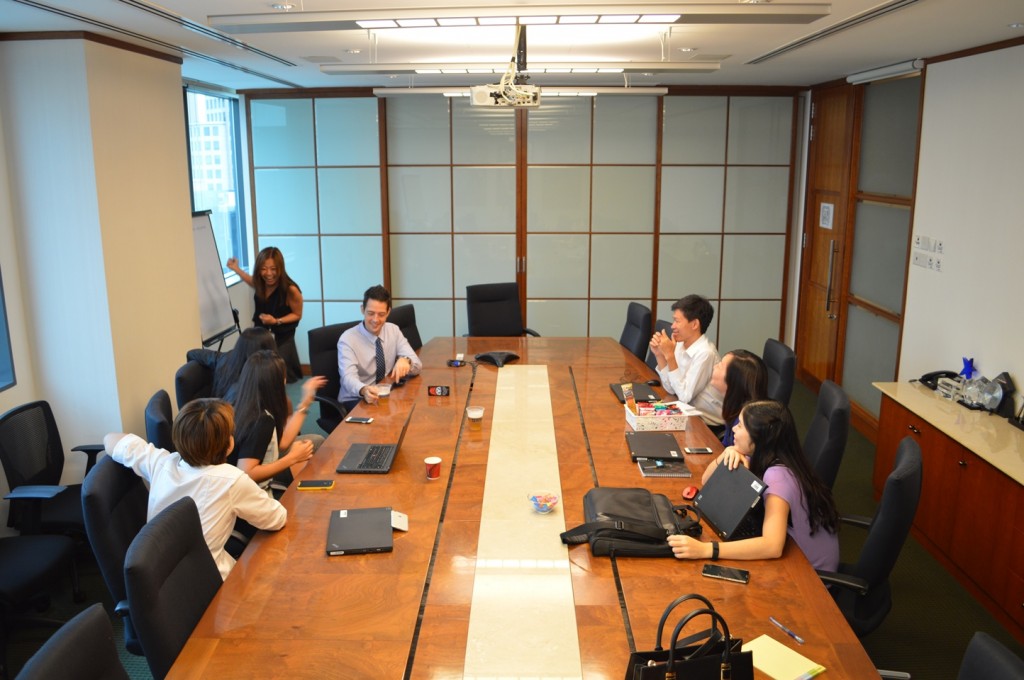 Consulting Junior Board (CJB)
Catherine – The best chairperson ever! Thank you for teaching me a lot of things, help me to be more mature and able to think from a different angle. You are one of my role model leaders. With your lead, my CJB mission was very fun and interesting. I will miss you a lot. Thank you so much for everything.
Antonie – Please don't spread misleading news about anyone again and stop being upset about not having farewell dinner with me. I know you already miss me and my beauty. Bare with it!. Oh almost forget, thanks for your joke that helped brighten my mood from time to time. I will miss it for sure!
Elaine – Always always be nice and cute to me. Thank you for being a great supporter for CJB task that we worked together.
Sean – Thank you for diligently manage our CJB budget. We would have met our target without bursting the budget without you.
Sasha – You always remind me of THAT movie! Thanks for organizing the meeting, also your minutes helped me a lot when I couldn't keep up with what had been discussed in the meeting. By the way, I love your energy of doing CJB.
Christina – You are smart and awesome, look much younger than your real age!. Thanks being a great help in the townhall we did together. It would be tough without your help.
Matthew – Thanks for accompanying me to buy mooncakes and carrying 4 pomeloes for me. You are very kind and stronger than the amount of muscle you have :P.
Candice – Cool girl from the fiction. You are so cool that I almost think you come from the fiction. Sorry for speaking in Thai without when I was drunk and thank you for being a good friend of mine.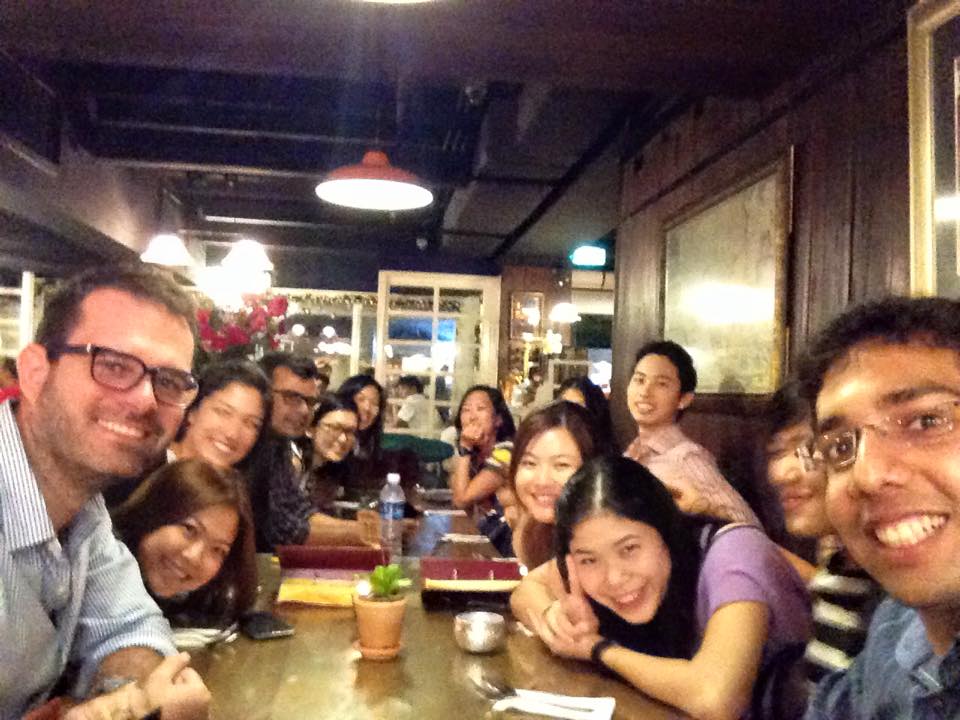 Other PwC Singapore folks
Thank you for being a good friend to me, sharing your stories and giving me memorable experiences. My PwC life wouldn't be this fun without you guys!.
Special thanks to Des, Grace, Cindy, Dhruv and Ranveer. Especially Des and Grace, I was very tipsy that day. Thanks for taking care of me. (T^T)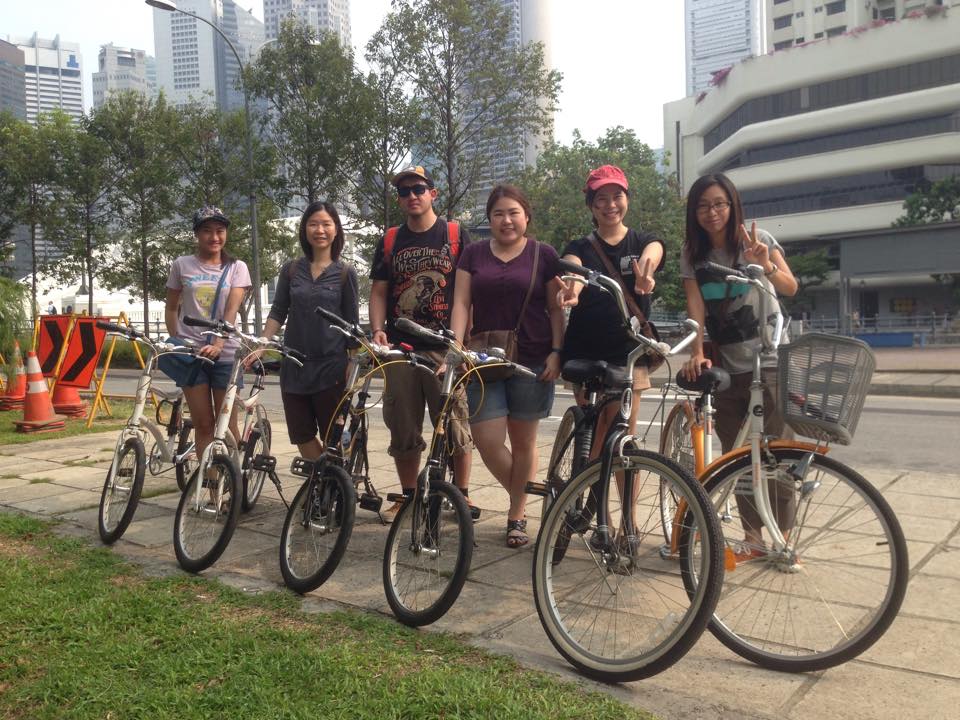 Singapore Lanla
พี่เอส – ขอบคุณมากค่ะพี่ที่คอยช่วยเหลือให้คำปรึกษาน้องมาตลอด แม้เจนจะไม่ค่อยเชื่อฟังเรื่องการออกกำลังกายเท่าไหร่นักแต่พี่เอสก็เป็นห่วงทุกครั้งที่ได้กลิ่นเคาน์เตอร์เพน วันที่เจนมีปัญหาอะไรพี่ก็ให้ความช่วยเหลือเต็มที่ คอยชวนออกไปทำกิจกรรม ออกกำลังกายบ้าง ดูหนังบ้าง แต่จะจบด้วยการกินเป็นส่วนใหญ่ 555 ทำให้ชีวิตในสิงคโปร์ของน้องไม่เหงาเลยค่ะ ขอบคุณมาก
พี่นุ่น – พี่สาวที่แสนดีอีกคนที่คุยด้วยแล้วสบายใจเสมอ ขอบคุณสำหรับความเอ็นดูที่มีให้น้องเสมอมา ไว้กลับไทยเมื่อไหร่พาเจนไปกิน เอ้ย เจนพาไปกินของอร่อยๆนะคะ
พี่ฮวง – พี่สาว(หรือไม่สาว เอ๊ะ สาวสิ)ที่แสนน่ารักและใจดี ชอบที่ตาพี่ยิ้มได้อยู่ตลอดเวลา อ๋อ ชอบที่พี่คอแข็งด้วย หูย อยากคอแข็งบ้าง
พี่เบส – พี่ชายที่แสนดี? ขอบคุณสำหรับความรักและเอ็นดู?ที่มีให้น้องมาตลอดค่ะ อย่าลืมไปฝึกหัดเล่นแบตให้เก่งขึ้นนะพี่ มาเจอกันคราวหน้าจะได้สูสีหน่อย อ๋อ ลืมขอบคุณที่ทำอาหารไทยให้กิน แต่ถ้าไม่มีเจนเป็นลูกมือก็คงไม่อร่อยถึงขนาดนี้
พี่แมนกับพี่ทิพ – คู่รักตัวอย่าง เวลาอยู่กับพวกพี่แล้วโลกเป็นสีชมพูตามไปด้วย ขอบคุณพี่ทิพที่ให้ข้อคิดเจนมากมาย ทำให้เจนรู้ว่าคนขยันและเก่งที่แท้จริงเป็นยังไง ขอบคุณพี่แมนที่ทำให้สุขภาพเจนดีขึ้นด้วยการโน้มน้ามให้ซื้อ Fitbit เจนเลยกลัวแพ้พี่ต้องออกไปวิ่งทุกวัน
พี่แอนนี่กับพี่คิตตี้ – พี่สาวมุ้งมิ้งน่าร๊าก อยู่ด้วยแล้วรู้สึกตัวเองแมนขึ้น 45.68% ขอบคุณนะคะที่พาเจนออกจาก ION Orchard และชี้ทางสว่างกลับบ้านให้
พี่มุขกับป๋าเก – ตัวละครลับ นานๆจะโผล่มาคุยกับน้องที ขอบคุณสำหรับความเอ็นดูที่มอบให้ค่ะ
พี่เป้ – ชอบคุยกับพี่อ่ะ รู้สึกพี่เข้าใจในความจริงจังกับชีวิตของเจน 555 ขอบคุณที่เอ็นดูน้องค่า
พี่กล้วย – ขอบคุณสำหรับงานแปลนะพี่ ทำให้เจนกับสำลีมีทุนนั่งรถไปเที่ยวมาเลเซีย
พี่ปิ๊ก – ขอบคุณเรื่องอะไรดี 555 เอาเป็นว่ายินดีที่ได้รู้จักกันค่ะ อดีตพนักงาน PwC เก่า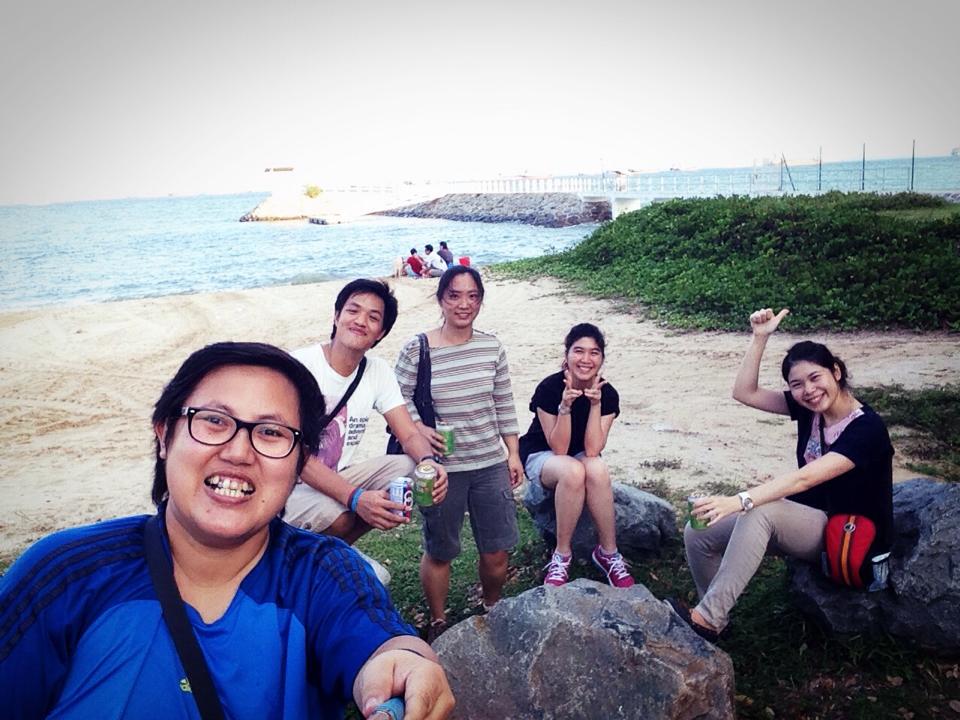 TEDDY No.5
ขอบคุณพี่โอ๋ พี่ปูน พี่เหมียว พี่โก้ ที่เอ็นดูน้อง พาไปเที่ยวรอบๆสิงคโปร์นะคะ ไว้ไปขี่จักรยานรอบเกาะกันอีกแล้วก็ต่อด้วยพิซซ่าจัดหนัก พี่สุไม่ว่าหรอก
Special Thanks to พี่สุ ขอบคุณมากค่ะพี่ที่ดูแลน้องมาตลอด แม้พี่จะงานโคตรหนัก เหนื่อยก็เหนื่อย ยังอุตส่าห์ถามไถ่ความเป็นไปอยู่เสมอ วันที่น้องมีปัญหาก็ได้พี่ให้ความช่วยเหลือ ขอบคุณจริงๆค่ะ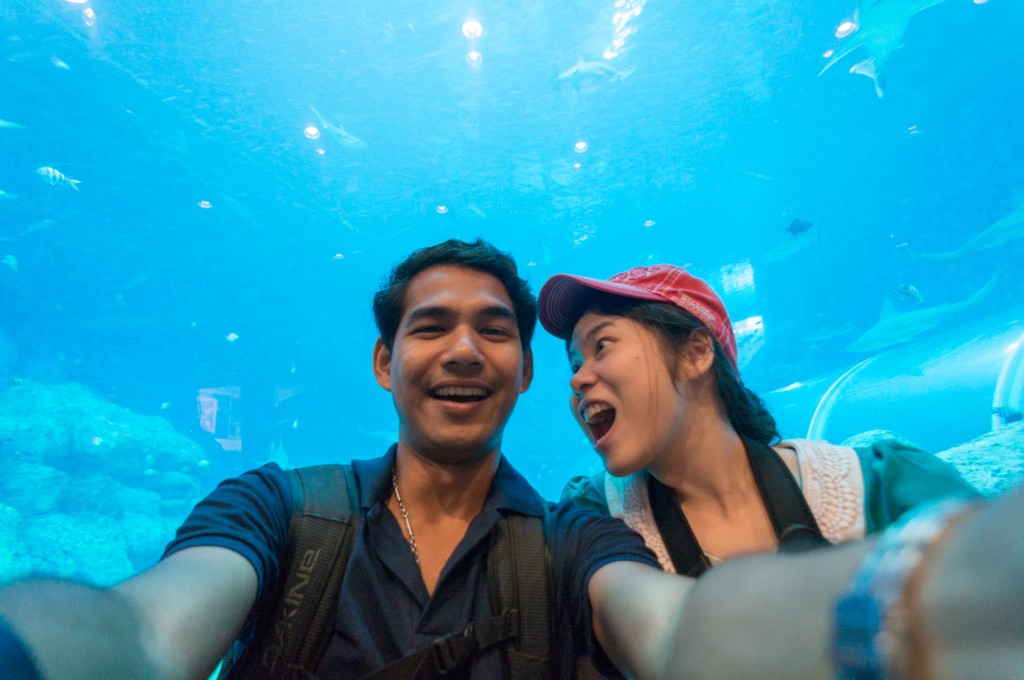 Cotton – ขอบคุณกำลังใจจากทางบ้าน คุณสำลี ที่แม้จะเหนื่อยกับการทำงานแค่ไหน ก็ต้องสไกป์มารับฟังปัญหาล้านแปดพันประการ แถมยังปฏิบัติตัวอยู่ในโอวาท ขอ visa ล่วงหน้า 2 ชั่วโมง กลับไปไม่เกินเที่ยงคืน บลาๆ ขอบใจมากที่อดทนกับเรา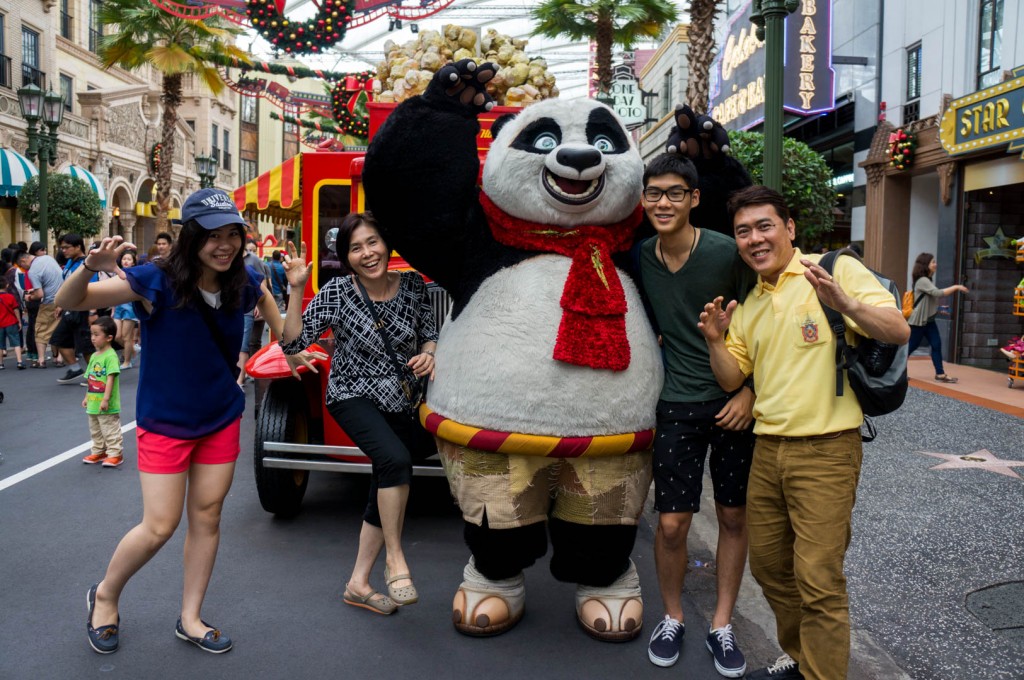 สุดท้าย ขอบคุณแม่พ่อและน้องชาย ที่เป็นกำลังสำคัญในการผลักดันให้เจนมีวันนี้ ขอบคุณค่ะ